---
NEWEST RELEASE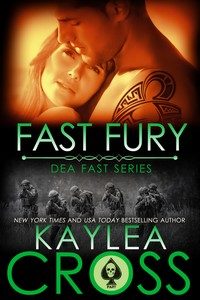 DEA FAST Series #5
Release Date: January 18, 2018
ISBN: 978-1-928044-25-3
Genre: Romantic Suspense
Format: ebook & print
Length: Novel (73,000 words)
Blurb:
She's a woman worth fighting for.
Abby McKinley misses her sexy former neighbor from across the hall more than she expected—because he means more to her than she was ready to admit. When she learns the feeling is mutual, she balks at the idea of getting involved with a man who is sure to break her heart. But the pull between them is too strong to deny. Putting caution aside, she agrees to meet up with him in Maui and see where things go. Then, just as she begins to lose her heart to him, her trip to paradise turns into a waking nightmare.
He'll do whatever it takes to make her his.
With a series of bad relationships under his belt, FAST Bravo member Kai Maka is ready for something real, and he wants it with Abby. Spending time with her on his home island of Maui gives him the perfect chance to show her how good they could be together. But a shadow has followed him home. A deadly drug cartel has set its sights on him, putting him and those close to him in the crosshairs. When unimaginable tragedy strikes, Kai is powerless to stop it. In the wake of that loss, he's more determined than ever to keep Abby safe. But he can't protect her from a threat he can't see coming. If he can't stop it in time, Kai will be forced to watch the woman he loves die.
BUY LINKS
EXCERPT from FAST FURY (click here to read it now!)
Kai didn't touch her as he walked her down the hall to the elevator and stepped inside it with her, but the moment those doors slid shut, the invisible tension between them intensified so much she could feel the latent electricity crackling along her skin. He stood at her back, close enough for his body heat to lick at her spine, the back of her neck. And God help her, part of her wondered why the hell she was denying herself. Why she shouldn't just turn around and kiss him the way she was dying to.
Sanity prevailed, and she pulled in a deep breath when the doors opened at the parking garage. "Well, thanks for dinner. I'll let you know if I get the call about Maui—"
She broke off when Kai gripped her upper arm and spun her around. Before she even knew what was happening, he'd pulled the backpack off her shoulder, locked one arm around her hips and hoisted her into the air.
Abby gasped and automatically grabbed his shoulders for balance. A heartbeat later he had her pressed against the concrete wall around the corner from the elevator, one large, strong hand cupping the back of her head.
Unable to breathe at the feel of him plastered against her in such a blatant, possessive hold, she stared helplessly into those molten dark chocolate eyes.
You need a guy who will pick you up, pin you to the wall and kiss you until you can't think, because he can't get enough of you.
His earlier words echoed in her head, unleashing a tidal wave of arousal through her body. She should stop this. Say something. But her mind was utterly blank.
Her breasts tingled, the nipples beading tight, and a hot throb ignited between her legs. He was hot and hard all over, the unmistakable, thick ridge of his erection pressing against the center of her jeans, lighting her up in a single, dizzying rush of need and desire.
And then his mouth came down on hers and she couldn't think at all. Could only feel as he gripped the back of her head and kissed her, a smooth, hungry blend of lips and tongue that turned her body to liquid.
Oh, God, the way he used his mouth…
She sank her fingers deeper into his shoulders, a velvet ripple of heat expanding in her belly as his muscles bunched and flexed beneath her hands. He smelled amazing, clean, masculine spice, and he stroked and caressed the inside of her mouth with such sensual skill that she could only whimper and give him what he wanted.
She was only vaguely aware of the elevator dinging and the doors swishing open somewhere off in the background. Kai broke the kiss but didn't let her go, keeping her pinned to the wall with his body as he stared into her eyes. Breathing hard, Abby gazed back at him in shock, her body on fire, pulse thudding in her ears.
Holy. Shit.
"That's how it should be," he said in a low voice that sent a delicious shiver up her spine. "If a guy doesn't kiss you like that, like he wants to crawl inside you and stay there forever, then he doesn't deserve you."
---