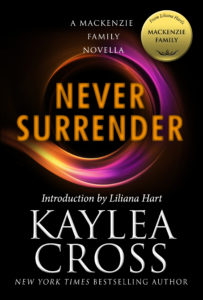 Bagram Special Ops #6
Release Date: March 21, 2017
ISBN: 978-1-942299-83-7
Genre: Romantic Suspense
Format: ebook & print
Length: Long Novella (42,000 words)
Blurb:
The Bagram crew meets Liliana Hart's MacKenzies
As the Bagram crew assembles at a guest ranch in Montana to celebrate the wedding of two of its own, everyone expects a fun week-long vacation enjoying some much-needed downtime together. But in the picturesque foothills bordering the ranch, a hidden danger lurks.
When the guys stumble upon evidence of a domestic terrorist cell during the bachelor party, it puts everyone directly in the crosshairs of a lethal enemy determined to remain unseen, unleashing a wave of danger every bit as deadly as what they faced back overseas. Then a shocking revelation from the past comes to light, and it may be the key to winning the fight. Now they must come together as a team to eliminate the threat, before they wind up gathered for a funeral instead of a wedding.
Buy Links
EXCERPT
EXCERPT from NEVER SURRENDER (click here to read it now!)
"I love you more than anything, and I missed you like hell while I was gone."
Relief poured through Candace. Ryan wasn't very romantic, or flowery with his words, so his saying that to her now meant the world to her. "I missed you more." And for the first time in months, she felt like they were finally in sync again. A huge relief.
Now she wanted the special intimacy that only their physical connection could bring.
Bracing her hands on his broad shoulders, she bent and covered his lips with hers. He nipped at her lower lip, ran his tongue across it then sucked gently, his hands framing her face, taking complete control.
She sighed and made a soft purring sound as she opened for him, hungry for more of the heat he'd ignited in her. Just as things were starting to get interesting, she jolted when the fire alarm blared to life.
Ryan stilled and lifted his head, instantly on alert.
Coming up on her knees, she looked up at the ceiling and inhaled deeply. There was no smoke and the air seemed clean. "Smell anything?"
"No." He rolled out from under her and peeked out the window. "Don't see anything."
"Must be a false alarm. Come back here." She grabbed his shoulder and turned him back toward her.
Grinning, he resumed his former position beneath her and cupped his hands around her breasts, his thumbs brushing over the hard, sensitive tips. "My sexy wife." He kissed the side of her neck, the brush of his beard making her tingle all over despite the continued blare of the fire alarm. "Just ignore it and focus on me." He turned her face back to his, slanted his mouth across hers before skimming his way over her jaw, to her throat.
"Mmm…" She tipped her head back to give him more room, running her hands over his bare back. The sheer power of him never failed to get her hot. Then Ryan rolled her over onto her back and blanketed her with his weight, the hard ridge of his erection pressing against her mound.
She sighed and threaded her fingers into his hair, letting her eyes drift close, the sound of the fire alarm fading beneath the rush of desire.
Something flickered against her closed eyelids.
Her body went rigid as she opened her eyes and saw the yellow-orange glow flickering through the window. "Ryan." She pushed at his shoulder.
At the urgency in her voice he sat up and reached for the blind covering the window, shoving it aside to look down. A second later, she smelled it. Faint, but unmistakable.
Smoke.
Ryan jumped off the bed and pulled on his underwear. "Something's burning down there," he said, reaching for his jeans. "Get dressed."
---